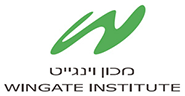 The Wingate Institute, named after Charles Orde Wingate, began its operations in 1957. It works tirelessly to advance competitive and popular sports in Israel.
The Institute has a coaching and training school, offering a variety of courses – academic and diploma. The school opened in 1965, and,since then, has been the leading institution of its kind in Israel in training coaches and trainers for popular sports, competitive sports, sports administration and complementary medicine.
The Center for Sports Medicine Sciences and Research at Wingate Institute is a leader in all fields of sports medicine. For many years, the staff at the Center for Sports Medicine has provided the medical infrastructure for the athletes of the State of Israel's Olympic delegation. It has accompanied them throughout their preparations for the games, as well as at the greatest moments of the competitions themselves. Besides in the competitive sports, the Center for Sports Medicine Sciences and Research also offers medical, orthopedic, nutritional and physiological support to the general public – children, youths and adults engaging in popular and recreational sports.
The Institute offers a variety of clubs and facilities, and hosts various sporting events throughout the year.
Wingate Institute website: www.wingate.org.il
The Athena Professional Unit offers an enrichment program, Athena Plus, which will constitute an integral part of the change of attitudes necessary to upgrade the status of women's sports in Israel.The program will help clubs where women's sports activities take place to achieve greater visibility, exposure and recognition. It will deepen the professionalism and knowledge at the clubs, and will maintain an ongoing, fruitful dialogue with parents.The operational model includes enrichment and support through professional content (lectures, workshops) for female athletes and their parents, devoting special attention to competitive teams and delegations.The work plan has been built following an in-depth process, with the help of leading professionals in their respective fields. What makes the program unique is diverse content activities throughout the year, in the afternoon and evening hours, in enrichment subjects for young female athletes, parents, coaches and trainers, through lectures, workshops, activities and mentoring of the club as a pivotal, influential factor.The program is flexible and has been built to enable each club and sport to obtain assistance in the manner best suited to its needs. It includes enrichment in four areas, provided by senior male and female lecturers who have been hand-picked by the Center for Sports Medicine at the Wingate Institute:

Healthy nutrition for the young female athlete
Psychological and educational aspects of promoting the female athlete
Medicine – growth and development of the young female athlete, injury prevention
Lecture by an Athena Ambassador (Israel's elite female athletes tell their personal stories, eye-to-eye, an experiential encounter leaving room for questions, photo ops and autographs.)

In total, four content lectures will be delivered, plus a lecture by an Athena Ambassador.

The target audience is divided into two groups:

Female athletes aged 9-12 and their parents.
Female athletes aged 13-15 and their parentsmale athletes aged 13-15 and their parents.

The program is intended to provide the female athletes and their parents with access to important, relevant and helpful information, which will help them to advance and attain achievements, and to retain them in the activity. Another goal of the program is to increase parental involvement in the club's activities and to forge a stronger bond between all corners of the square: club-female athlete-parents-community.

The Athena Plus program is a year-long program with an option for a one year's extension.

The lecture series and mentoring will be geared toward the club's female athletes in the classes and competitive teams, and toward the parents. The club/association is responsible for furnishing all necessary equipment, and for complying with all of the project's conditions in order to be subsidized by the Athena National Project. All of the activity will be branded by auxiliary products that will be distributed to the female athletes throughout the year.

For further details, please fill in the form below or contact Einat Ronen, the program coordinator, at Athena:

einat@athenawomen.org Office: 073-2853977 Mobile: 054-4940202